Joomla vs WordPress - Ease of Use
WordPress is known for its ease of use, with many users making it their first choice over other CMS platforms. But how does it compare to Joomla? Joomla or Wordpress - which one?
Joomla and WordPress are both aimed at beginners and experienced individuals. Contrary to popular opinion I have always found that, though different, their simplicity and ease of use is much the same.
Both these CMSs are easily installed. The similarities end when you get to the administration administration. The layout and customization in the administration control panels are mostly what sets these two CMSs apart.
WordPress, starting life as a blogging platform, retains a control panel designed for bloggers from the beginning. Most users will be able to pick up at least the basics in no time at all.
Joomla is laid out very differently, starting life as a portal1 providing capacity for administration by Authors, Editors and Publishers giving each of these groups the capacity to edit different portions of the site and with Super Users having control over the whole site. It will take a bit more effort to get there than WordPress but with a bit of patience Joomla can prove to be a big asset to a company which intends to grow.
Joomla vs WordPress - Website Security
Most vulnerabilities for both Joomla and WordPress come from one of two factors:-
Out of date core software and

Poorly developed or out of date third-party plugins and extensions to core software. These plugins and extensions account for about 60% of vulnerabilities. Because WordPress has something in the order of 57,000 plugins, many created by startup developers, there is necessarily a lack of quality control.
With both platforms risks can be minimised if all software is kept up to date.
Joomla and WordPress both offer something similar in terms of protection and support, including security extensions and plugins. Both Joomla and WordPress provide automatic update availability notification. In Joomla update notices for core software are emailed to Super Administrators and extension update notifications are provided on administration login. In WordPress there is no email notification. Update notifications are provided on administration login. Core software updates can be set to run automatically.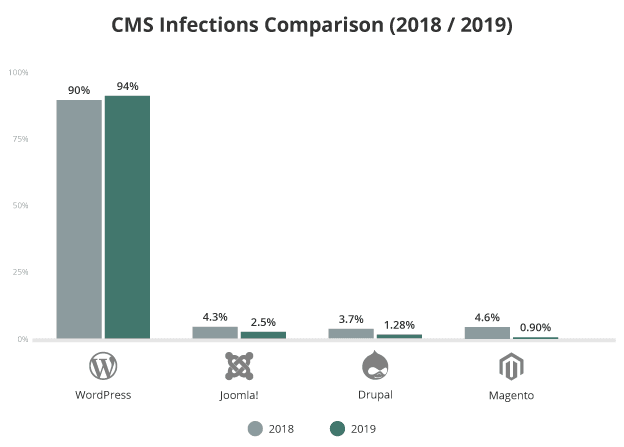 Ref: https://blog.sucuri.net/2020/01/hacked-website-threat-report-2019.html
Joomla vs WordPress - Plugins & themes
Plugins/extensions and templates/themes are what turn a regular website into a website for you. As well as making your website look great, they also play large role in your website's functionallity (SEO, speed and security). These tools enable customization and are essential for creating a professional websites for you.
WordPress offers just under 57,000 plugins, while Joomla offers around 8,000. This sounds impressive for both of them but in reality most websites will use no more than perhaps ten or twelve extensions to enhance functionallity. It is also worth remembering that many plugins have similar functionallity and so to quote plugin numbers can be misleading.
When installing either Joomla or WordPress we use templates (Joomla) or themes (WordPress) designed using the Gantry 5 framework. Gantry 5 expands the capability of both platforms considerably.
Joomla vs WordPress - Speed
WordPress has extensions available for caching. Joomla has this functionalliy built in.
Joomla has a speed advantage over WordPress when it comes to larger and more complex websites. It has better scalability and will require less server usage than a WordPress website of the same size.
Joomla vs WordPress - Flexibility
Flexibility can be a big deal when it comes to building a website and, ideally, you want to be able to customize it. Using Joomla, you can incorporate multiple themes across your website. This means that Joomla users can have different templates for different pages. It is also possible to have the same template with different layout and colours on different pages. You can switch styles and templates if, for example, you want a different template for your blog2 than your main website or, perhaps, for different product lines. This functionallity is built into Joomla.
In contrast, WordPress users can only work with a single theme per website which can limit creativity and functionality.
Multiple themes can be used in WordPress using a plugin (Multiple Themes or similar).
In addition to this, Joomla has greater capacity to handle multiple or more complex forms of content where WordPress can find it difficult to keep up. Certain WordPress plugins that cater to different forms of content have been known to run into technical problems because they simply can't handle it.
Joomla vs WordPress - Learning Curve
Joomla and WordPress both get up and running fairly quickly. Their basic features, themes, and plugins don't take much to get to grips with though Joomla can be a bit more complex than WordPress. Most of the plugins for both are well-explained and most templates/themes enable you to customize pages according to your individual requirements. Most users will need some tuition to get their heads around some of the concepts for both platforms, How much depends on your experience. For the most part, however, like so many things, it's more of a "learn as you go" process.
With the help of some tutorial videos and articles, you can learn how to build your website effectively.
Should you wish to have us develop a website for you we will, of course, include tuition for the platform of your choice.
| | |
| --- | --- |
| Australian Sites Using Joomla | Australian Sites Using Wordpress |
| | |

Documentation
If you want to build your own website using Joomla you will find more information at Joomla Documentation.
Similarly, if you want to build your own website using WordPress you will find more information at WordPress Documentation.
Joomla vs WordPress: Conclusion
The Joomla vs WordPress comparison is not a tie, but they are not all that different from one another.
Both platforms are set for major developments and Joomla is gaining traction all the time.
To decide which CMS to use, you need to consider your website's purpose. If you have some tech knowledge and are looking for a more flexible CMS that allows you greater creativity in your design, Joomla may be for you.
However, if you're new to website building, or are not concerned about the potential theme and content limits that WordPress can pose, then WordPress may be your better option.
My Preference
On most reviews Joomla gets lower ratings compared to WordPress. Reviewers tend to recommend things they know or are selling. If a client particularly wants WordPress I give him or her a WordPress site and the same applies to Joomla, but if I am to decide, depending upon the use to which the site is to be put and the expected future expansion, I will choose Joomla pretty much every time. This is simply because when the time comes for your site to start growing and you decide that your business needs a site with more functionality and expandability Wordpress can be limiting and you will be faced with having to move everything to another CMS. WordPress tends to make life a little easier in the beginning but Joomla offers many more possibilities.
1 A web portal is a website that provides a broad array of services, such as search engines, e-mail, online shopping, and forums.
2 A blog is a regularly updated website or web page, typically run by an individual or small group and which is written in an informal or conversational style.